I have a small light table that is always out and available for play in my classroom.  I use this light table for simple activities and try to keep something out and available for light table play every single day…
One of the drawbacks to having wonderful natural light in my preschool classroom is that the light and colors on the light table aren't nearly as brilliant during the day as it is when I play at home with the light table at night. But the light is still effective and to keep in interesting, we try using the light table in a variety of ways…
Many of the photos I am sharing on this post today come from an entire year of preschool light table activities. We are always exploring so many different light table activities, that I haven't even had time to write about most of them. So I thought I would at least share with you different ways we use the light table in our classroom…
We use the light table salt box to explore the writing and drawing process….
We use the light table to promote number and letter recognition….
We use the water beads on the light table to explore magnification and prism affects on the newspaper letters…
We hunt and pick up small objects through holes on the light table for a little fine motor play…
We extend the books we read like the book "Stars" by Mary Lyn Rae
…
We use the light table to explore art and to take a closer look at our artwork once we are finished…
We explore colors, color mixing, and science on the light table…
We explored physics and centrifugal force with marbles in a petri dish – this was pretty cool…
We stacked the dishes up in many different ways and made the marbles go round and round by moving the dishes in a circular motion…
It was hard to take a photo of the marbles moving…
We explore drawing and story telling with these laminated story strips for the light table…
The children lay the laminated strips across the light table to make the story move…
We play games on the light table…
We explore as many different materials on the light table that we can come up with…
We explore water beads on our DIY light table when we need a large light table surface…
And on some days the children come up with their own unique plan for play on the light table…
You can see more ways we explore the light table here on my previous light table post!
I hope you have enjoyed seeing some of our light table activities we have been exploring and if you have a light table post to add to the Everyday Light Table Play linky below, I hope you will be sure and join me!
Don't have a light table yet? No worries, check out this light table post for how to make a DIY light table and the additional links to more DIY light tables within the post…
Light Table Linky Rules…
Linky Rules
Feel free to add up to 3 links from your blog to the linky below
Add a link back or the light table button (shown above) to at least one of your posts
Share only links to light table ideas please!
Thank you for joining up!
Linking up to..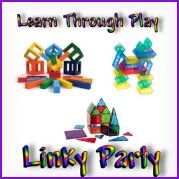 This article is being shared with you by Deborah Stewart of
Teach Preschool
- Promoting excellence in early childhood education at home and in the preschool classroom!
Check out
Deborah's new book
and order your copy today!
-Teach Preschool on
Pinterest
-Teach Preschool on
Facebook
-Teach Preschool on
Twitter
-Deborah Stewart on
Google+
or
Teach Preschool G+ Page
Subscribe to receive the latest Teach Preschool blog posts by email...
Disclosure: Teach Preschool is a participating member in the Amazon Services LLC Associates Program